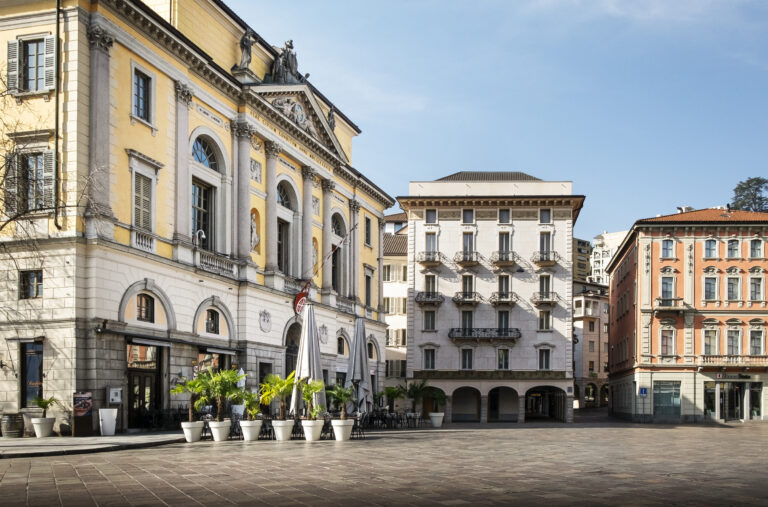 The elegant Lake Lugano, in the region of Ticino, is situated between Southern Switzerland and Northern Italy. The lake is named after the city of Lugano that is situated between Lake Como and Lake Maggiore and is 63% Swiss and 37% Italian. This interesting mix gives a special feel to the lake and the area and is an ideal place to buy a second home or to relocate. 
The city and surrounding area can offer everything from a fabulous shopping experience to a trip to the well-known Casino. The weather compared to many other parts of Switzerland is excellent due to its Southern location. It is conveniently situated for travelers with Milan Malpensa airport about an hour away and Linate a little longer. Zurich is just under 2 hours by train and the capital of Ticino, Bellinzona, is an hour away and well worth a visit.
If you are interested in Art and Culture, do visit the Lugano Art and Culture Centre (LAC) in Via Nassa. If you are a sports enthusiast then there are tennis clubs, an indoor tennis centre and of course boating and various water sport activities on the lake. It would not be Switzerland without talking about skiing so you will be pleased to know that there are various ski resorts within 50 minutes drive from Lugano. Novaggio is only 30kms away, Nara -Leontica 65 Kms, Cari 80 km and the Splugen 95 km. If you fancy skiing in the famous ST Moritz then it will take about 1 hour 20-30 minutes. St Moritz also offers night skiing at certain times of the year.
For those people who wish to relocate to Lugano or surrounding areas there is an excellent choice of international schools:
TASIS, the American school at Montagnola, just 10 minutes drive from the centre of Lugano and Frankling University Switzerland at Lugano, Soregno, just a 5-minute drive from the centre.
A selection of properties is available for you to choose from whether you wish to buy a holiday, 2nd home, an investment property or a beautiful villa to live in and enjoy the fantastic air, climate and lifestyle of Lake Lugano and its unique position just 15 minutes from the Italian border and close to skiing and other major cites. You can utilize its excellent transport service with trains running on time and spotlessly clean and a motorway network which is second to none.
Lets us help you find your perfect home in Castagnola, Pazzallo or Breganzona, to name but a few places close to the centre of Lugano or else in the city itself.
Please contact us for more information.